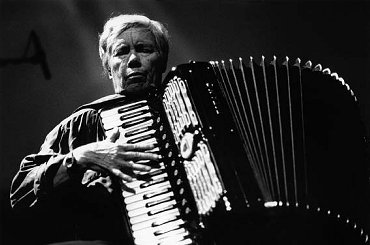 Pauline Oliveros.

Women's History Month
at HurdAudio has concluded. This month I celebrated and observed the creative music of the following CDs from my personal collection:
Janice Giteck: Breathing Songs from a Turning Sky
Susie Ibarra: Flower After Flower
Lori Freedman: A Un Moment Donne
Marilyn Crispell/Irene Schweizer: Overlapping Hands: Eight Segments
Julia Wolfe: Arsenal of Democracy
Myra Melford: Dance Beyond the Color
The Billy Tipton Memorial Saxophone Quartet: Saxhouse
Mary Lou Williams: Mary Lou's Mass
Various Artists: Lesbian American Composers
Geri Allen: The Printmakers
Ikue Mori: Hex Kitchen
Pauline Oliveros: Deep Listening
Jin Hi Kim: KomunGuitar
Laurie Anderson: Big Science
Francis-Marie Uitti: 2 Bows
Meredith Monk: Atlas
Marilyn Crispell (plays the music of Annette Peacock): Nothing ever was, anyway
Robin Holcomb: Robin Holcomb
Myra Melford: Now & Now
Ushio Torikai: Go Where?
Julia Wolfe: The String Quartets
Tenko/Ikue Mori: Death Praxis
Marilyn Crispell: Contrasts: Live at Yoshi's (1995)
Janice Giteck: Home (revisited)
This sampling is in no way complete or fully representative of the full range of music created by women composers and improvisers. Though the quality and diversity of texture and ideas within these 24 listening experiences is impressive. This sampling only hints at the wealth of music that exists within each of these artists' catalogue of recorded and composed music and there are many more artists not represented in this finite set.
This year I have been reflecting upon the philosophy of Deep Listening as expressed and practiced by Pauline Oliveros. To me this reflects an attitude toward being awake and alert to all the rich beauty and detail that exists in the sonic environment. It is the "active ear" that drinks in the experience of live and recorded music. Though it can be more expansively applied as being present and mindful of all sonic experiences both ambient and compositionally deliberate.
I have also been reflecting upon these different expressions of faith and transcendence. From the deeply felt Catholicism of Mary Lou Williams to the blend of Kabala, Buddhism and Yogic traditions that influence Janice Giteck to the spiritual outpouring found in the improvisations of Myra Melford. Even when these philosophies seem distant or unfamiliar there's an undeniable pull and beauty in this music that passionately affirms the personal value these composers feel toward their spiritual sensibilities.