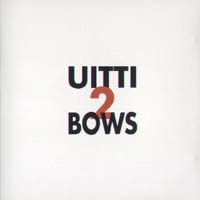 Francis-Marie Uitti:
2 Bows
.


Women's History Month
is in progress at HurdAudio as the ongoing celebration moves to an ear full of
2 Bows
by cellist Francis-Marie Uitti.
2 Bows
is a set of solo cello improvisations from 1985 - 1994 featuring Uitti's unique double bow technique. In her right hand she holds two bows: one underneath the strings that contacts the IV and I strings and one on top in contact with the III and II strings. Her left hand is then responsible for multiple stops on all four strings. By angling these two bows she can stroke two, three or all four strings on the instrument simultaneously.
The opening work, "Choral Spectra (to JH)" is an astonishingly beautiful piece. It is a fluid stream of rich harmonies spanning a wide spectral range. It immediately makes apparent the kind of sonic universe this extended technique opens up.
"fffff" proves that two bows don't necessarily result in a dense sonic texture. With thin, sul poniticello tones and an aggressive approach to the full dynamic range this piece reveals the contrapuntal potential of Uitti's technique combined with her musicianship.
"Double" is a pulsating, luminous cello sound. At times it's hard to believe all this sound is coming from a single resonating body.
"Double Choral (for Louis A)" is a slow, languid study of the spectral richness of four vibrating strings. The gradual building up of sound as it passes from consonance to dissonance and back again is aesthetically attractive. Uitti's dexterity with the double bow technique is on full display here as she seems to have full dynamic control of each individual part. This allows for melodic tones to move into the foreground as well as a shimmering texture of harmonic pitches fading in and out of one's aural field of view.
"Metallic Double" features a wonderfully quiet sound that can be both delicate and dissonant at times. This is one my favorite improvisation on this collection that paints within a focused range of timbres within a soft dynamic range.
"Rolf's Chorale" is a drone-texture work that bathes the ear in dynamic harmonies. At times this piece takes on the quality of breath and vocal inflection. At other times it ascends to an other worldly texture of brittle tones clustered close together that untangle over time.
The double-bow technique used here is compelling. As a composer I can imagine any number of ways to combine it with radically retuned strings or even theorize about full ensembles of double bowed string instruments (either by multi-tracked Uitti's or training a new generation of double-bow bassists, cellists, violists and violinists). By recording her own improvised music Uitti has advanced and revealed the sound of this technique with fantastic results. This sound should be more than enough incentive for other string players to adopt/adapt a similar approach.