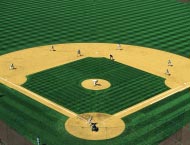 More than doubling my chances at having the "home" team make the post-season.

Given the miserable start the Mariners are off to it seems like a good time to find a new geography. They could get HurdAudio to manage that team for half of what they pay that Hargrove guy.
The trek from north to south with a heavy pack is largely complete now. The local new music scene is promising and things are doing well on the employment/life front. It will be nice to unpack the CDs and get ramped up for more scale posts. I have plenty of new recordings of Terry Riley, James Tenney, Marilyn Crispell, Giacinto Scelsi and even Ludwig Van Beethoven that I look forward to listening to and writing about. I've barely had a chance to have my ears thoroughly flattened by the incredible
Bow River Falls
by Dave Douglas/Peggy Lee/Louis Sclavis/Dylan Van Der Schyff. More later on that incredible gem.
It figures that the Seattle Symphony would wait until I skip town before performing the Charles Ives
Third Symphony
. Now that I'm gone they can go ahead with that Edgard Varese marathon concert I've been longing for.