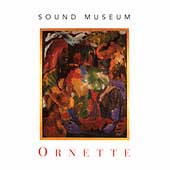 Ornette Coleman:
Sound Museum - Three Women
.


Black History Month
continues at HurdAudio. Tonight I've been listening intently to
Sound Museum: Three Women
from 1996 by Ornette Coleman. This disc was released simultaneously with
Sound Museum: Hidden Man
which features the same ensemble performing alternate takes of the same compositions. This dual release makes for a great documentation of Coleman's "harmelodic" theory.
Sound Museum
marks a return to an acoustic quartet after his work with
Prime Time
and in many ways has the feel of an "unplugged" Prime Time on a smaller scale. The fact that Ornette's son Denardo Coleman plays drums for both projects may have a lot to do with this similarity.
Charnett Moffett
's generous use of arco bass in the mid to high range of the instrument adds a great flavor. But the real joy is hearing
Geri Allen
on piano in this harmelodic environment. She spins out some great linear lines that weave well against Ornette's melodic material and manages to work in some choice chords as well. Piano really impacts the texture of this quartet and Allen is simply brilliant here. This quartet is adept at building, sustaining and varying some attractively thick sonic textures.
"Mob Job" is one of my all time favorite Coleman compositions. I remember it fondly on the Pat Metheny 1985 collaboration
Song X
and it's done pretty well by Prime Time as well. The version on
Three Women
is easily my favorite take on this gem with Geri Allen taking the melodic lead right from the start.
"Don't You Know By Now" is the odd track out on this disc. It's not covered on the parallel release
Hidden Man
and it's done as a vocal duet that strikes my ears as sounding like a pop ballad. This incredible quartet is suddenly smothered under voice and text and never quite finds any room to breathe under the weight of this intrusion. I haven't been able to figure out why this track was included on this disc or programmed as a momentum killer between some smoking instrumental tunes.
I've never developed a taste for vocal music that relegates the instrumental parts to mere supporting roles. There may be harmelodic applications to vocal music that work as well as the instrumental music on this disc. I suspect such music would need a different kind of poetry. The words need the same kind of freedom that is extended to harmony and time in the other ensemble roles. Ornette Coleman has developed and mastered a great vocabulary for saxophone over the course of his lifetime. And his trumpet and violin technique is actually starting to grow on me (it's actually pretty good in its spare uses on
Three Women
). He can hardly be faulted for not having cracked the code for making it work for voice.
It's easy to miss the linear aspect of harmelodic theory in the midst of studying the harmonic ramifications of an improvisation friendly pan-tonal theory. It's Ornette Coleman's melodic sensibility that's always been a strong pull on my ears. I love the intervallic leaps that his melodies and improvisations take. He's written so many great tunes and
Three Women
demonstrates that he's still actively creating with the same sensibility that his legendary quartet recorded for Atlantic Records back in 1959.