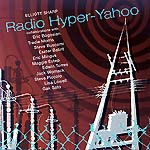 Currently listening to
Radio Hyper-Yahoo
.

It's that short valley between major holidays marking another turn on the odometer in the year column. A good time to put an ear to the new music found under this year's tree.
Elliott Sharp
's recent
Radio Hyper-Yahoo
is currently filling my ears. I've been a fan of Sharp's music and ideas for a long time now and I still aspire toward having a complete collection of his prolific output. This recent disc sounds like an update on the ideas from
In the Land of the Yahoos, Beneath the Valley of the Ultra-Yahoos,
Revenge of the Stuttering Child,
Do the Don't
and even stays true to the spirit of the old
Mofungo
spirit found on
Bugged
and
Work.
It's rich with social commentary and some fruitful collaborations. Sharp's politics and ideas are deeply resonant for me and it's a pleasure to hear them both articulated at once. I approach each new Sharp disc with high expectations and still manage to enjoy them more than I expect to. "Got it? Get it!" in particular (a collaboration with vocalist Tracie Morris) in particular jumps out at me as a polished track with excellent text. This one is thick with the sound that keeps me looking for more.