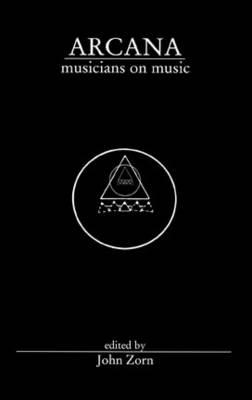 Arcana: Musicians on Music
, edited by
John Zorn
.

Yesterday I finished reading
Arcana: Musicians on Music,
a collection of essays assembled by the leading Downtown Radical Jewish Culture figure John Zorn.
This book is a rare opportunity to read directly from many of my personal heroes and it fills out my understanding of the creative thinking processes that happen within this group of aggressively individualistic composers and improvisers. As Zorn points out in his preface, much of this material is rough and unpolished as this is an unfiltered exposure to the writings of non-writers. As such, they span quite a range from thick academic manifesto to personal biography to performane set lists. Nearly all of it is deeply thoughtful and rooted in a lifetime of plumbing one's creative muse.
I particularly enjoyed the severely dense
"Propositional Music: On Emergent Properties in Morphogenesis and the Evolution of Music"
by
David Rosenboom
. Each paragraph seemed so thick with ideas that it read like a series of abstracts tackling a range of breathlessly uncompromising composition issues.
"Teaching Improvised Music: An Ethnographic Memoir"
by
George E. Lewis
struck a near-perfect balance between personal biography and academic rigor. (George Lewis is a fantastic composer and hearing the
NOW Orchestra
performing his
Shadowgraph series
is one of the greatest live music experiences of my life). "Aural Architecture: The Confluence of Freedom" by
Myra Melford
was an excellent chance to learn about the influence of architecture and spirituality in the music of my all time favorite pianist. Also satisfying as a thoughtful read was "Playing with Fire: Drinking-- And Burning-- in the Dreamtime" by
Peter Garland
. It manages to convey a great deal of thought about music and the nature of creative composing by offering an account of his travels in Australia.
There were also a number of essays by composers whose music affects me deeply, but their prose left me hungry for more complete accounts of their life and ideas. This was particularly true in "Elements of Improvisation" by
Marilyn Crispell
. Her music also has the effect of leaving me hungry for more. She has tapped into the spiritual energy from the tradition of
John Coltrane
and
Cecil Taylor
. It's music that is tough to write about (though
Graham Lock
does incredible justice to the subject). Likewise, "An Approach to Guitar Fingering" by
Bill Frisell
and "A Personal Pedagogy" by
Mark Dresser
are fascinating glimpses of some of the detailed thinking of these respective musicians. They loom so large that one is again hungry for a complete biography of such accomplished improvisers. But even such fleeting glimpses of the inner workings of current great artists is more than this culture typically delivers.
This collection of essays is a valuable contribution toward documenting a vibrant era and scene in creative music. It really should be only the tip of the iceberg. There should be monthly installments of such writings covering a wide range of composers and improvisers.
Anthony Braxton
is a prolific writer whose excellent
Tri-axiom
volumes remain unpublished (or at least not widely distributed, a real crime, the draft I read needed a little polish, but the ideas were so vibrant and valuable) and whose influence was easily detectable in
Arcana
even if the absence of his writings was conspicuous. I would also love to read something from the fertile minds of
Dave Douglas
,
Uri Caine
,
Matthew Shipp
and several others from the downtown scene. Interviews are nice, but there's something to be said for artists presenting themselves in their own prose. High praise for John Zorn for seeing this project through and more than just a little remorse that it is so soon out of print.